From idea to series production
van idee tot serieproductie
van idee tot serieproductie_mobile
Contact us as early as possible, right from the very first idea.
Based on a sketch or idea, we examine whether high pressure die casting is the most suitable solution, technically, functionally and economically. Pedeo will be happy to advise you in the further development of a concrete concept, taking into account a number of technical casting and mould design guidelines. The choice of material and further development are the result of the expertise and interaction between all parties.
Pedeo offers you maximum added value right from the start.
From concept to final design
Close cooperation strongly determines the further production process and therefore also the cost price of the part.
In the design, special attention is paid to details that strongly influence manufacturability and cost, such as draft angle, wall thickness, tolerances, etc.
Software simulations validate the design so that adjustments and optimisations are possible before production of the tools.
Final specifications and cooperation proposal
After all discussions and optimisations, the critical dimensions and final specifications are determined. This forms the basis for a cooperation proposal including the part price, tool costs, operations and delivery time.
Pedeo undertakes to work reliably and punctually according to these agreements throughout the entire process.
The Pedeo engineering team ensures the development of the various tools: dies, trimming dies and any machining or assembly jigs. The realisation of the toolings is done both internally and externally, always under the full responsibility and supervision of Pedeo.
Often multiple parts are combined into one multi cavity mould, in order to optimise the cost.
From trial series to validation and release
Through a trial series you can assess the technical, functional and aesthetic properties of the part. In addition, the production process is optimised and the process parameters are established.
The test pieces and accompanying quality documents – such as the measurement report, control plan and risk analysis – are validated by and with the customer.
Based on these findings, further product changes can be made or the product can be released for series production.
During serial production, the defined process parameters are continuously monitored to ensure quality and reproducibility. Feasibility and traceability are guaranteed via the ERP and MES systems.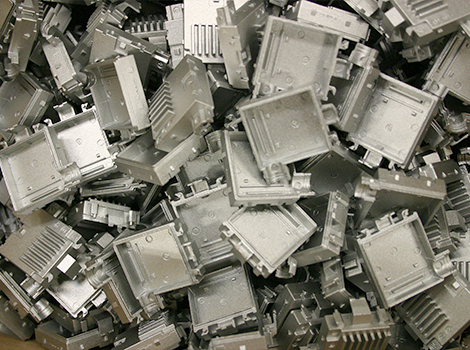 STAY INFORMED ABOUT HIGH PRESSURE DIE CASTING APPLICATIONS.
Receive tips & tricks, how to's, whitepapers, news and case studies.