Numerous electrotechnical and electronic applications function thanks to Pedeo parts. Thanks to the precise design, many details can be cast in the mould, each with exactly the right position and dimensions.
Cast aluminium or zinc housings offer the following advantages:
Perfect electromagnetic shielding
High-quality metal look and feel, with or without surface treatment
Robust
Great freedom of form, optimal use of available space and weight
Integration of functionalities: openings for connectors, bosses for circuit boards, sealing grooves, heat release, etc.
High pressure die casting is the ideal technique for cooling blocks with a very specific design.
A heat simulation helps design the optimum heat release and air flow.
Cast aluminium or zinc cooling blocks offer the following advantages:
Optimal design for maximum heat release
Combination of solid zones (heat extraction) and thin ribs (heat release)
Cast cooling channels
Bosses for mounting e.g. an integrated fan
High pressure die casting offers the following advantages for producing parts for fixing:
Freedom in design
Optimal use of available space and weight
Stronger than plastic
Optimum strength/weight combination (rib structure)
Integration of various different parts into one complex high pressure cast product
Specific pass sizes and reference surfaces due to limited CNC processing
Corner pieces and end pieces
High pressure die casting is perfectly suited to the production of corner pieces and ensures a perfect connection and finishing of, among other things, extrusion profiles.
Internal reinforcement of the corner by a press and/or glue connection
External screw or press connection of profiles
Aesthetic connection without weld
Strong corner connection
Extrusion profile caps and fixing feet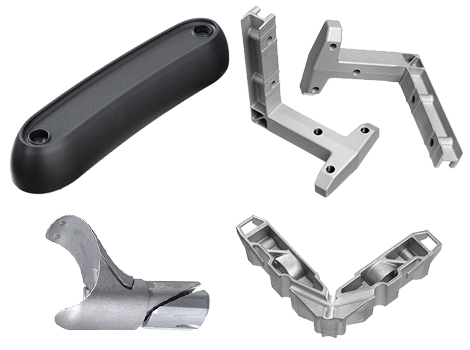 Overmoulding of other materials
Via high pressure die casting, it is possible to overmould other materials, such as axles, bushings or bolts, with the aim of even better strength, weldability, wear resistance or heat conduction.
The properties of both materials can be used optimally, without sacrificing design freedom.