Project engineer Koen creates a solution, together with you
Project engineer Koen creates a solution, together with you
28 years ago, Koen started working at Pedeo. For the designs, he had a drawing board, pencil and tracing paper. Today he is one of the project engineers and he monitors the entire project. He conducts the discussions, designs and sets out the process steps and quality controls. "Tracing paper has been replaced by 3D software, but it remains people work, for which experience is crucial."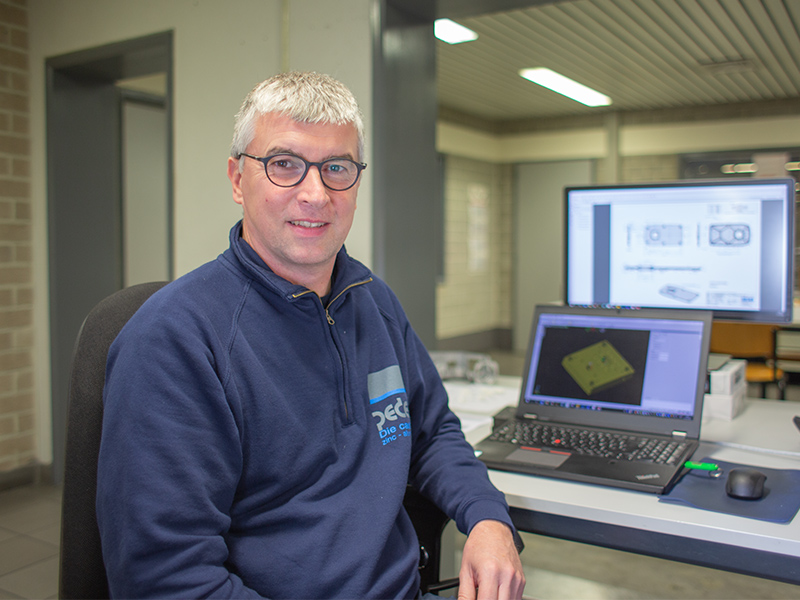 "After 28 years, every piece is still different.
But you take the experience from previous projects with you."
Lively discussions
For many clients, Koen is a familiar face with whom they sometimes have lively discussions. Because of his experience, he sees possible optimisations: adapting tolerances to future use, simplifying the process, making post-processing unnecessary. Or just integrating extra details and functionalities in the castings to increase the efficiency of the overall project.
Creating together, perfecting the design, challenging each other's ideas and thinking along with each other. Always in consultation, as partners. And then come up with the optimal design together. "That is only possible if you can look wider than just the casting, and it gives the greatest satisfaction."
From idea to series production
Koen monitors the project from the design to series production. "The many contacts with customers, suppliers and colleagues make the work very diverse. But the most enjoyable aspect is still the 3D drawing work. That is where most of the knowledge is introduced, and it produces visible results."
Feedback and cross-fertilisation
"A quick sketch on paper, a first 3D printed model, grabbing a sample and looking at it, all this is invaluable in the design. That is why it is so useful that all our people-design, production and finishing – are located in one building"
Koen regularly passes through the production hall to discuss the design: with the specialists for the casting process, various finishing operations and with the CNC department. Their feedback ensures a better and richer design.
Of course, the job also involves the necessary paperwork: recording the process steps, describing the checks, everything has to be meticulously worked out. Maybe a little less exciting, but just as important. "On that basis, my colleagues in production guarantee a consistent quality."
The art of High Pressure Die Casting
Are there any fixed rules for high pressure die casting?
"There most definitely are, although they are more like guidelines. Actually, you could say that every project is an exception to the rule. It is precisely because of our experience that we can estimate how far we can go to meet the customers' specific queries."
That is actually the strength of Pedeo.
"We are very good at doing 'specials', because we think along with the customer." For very complex pieces, Koen sometimes likes to sleep on them for a night. He already has so many under his pillow.